Snap Circuits SC-300
DR. TOY - 100 BEST CHILDREN'S PRODUCTS!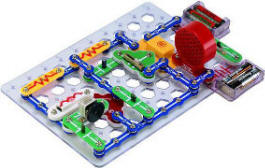 Snap Circuit Model SC-300 contains over 60 modular snap-together parts that will allow students to build over 300 experiments. With an easy-to-read color manual, students can jump right in and start building projects that teach about motors, batteries, lamps, speakers, resistors, capacitors and switches. . .just to name a few. Students as early as the 4th grade on up to high school will enjoy learning and have fun working with Snap Circuits.



Instruction Manual & Parts List
The student guide for the Snap Circuit SC-300 includes over 100 pages of educational curriculum. Written with the help of educators, it is essential in covering all topics related to electricity and electronics being taught in middle schools and above. Includes real world applications and problem solving quizzes. The teacher guide is meant to prepare educators for proper introduction of Snap Circuits and guide them through each chapter with quizzes for students to test their knowledge.

Topics Covered
Resistors

Capacitors

Transistors

Integrated Circuits

Series Circuits

Parallel Circuits

Switches

Motors

Batteries

Requires 4 "AA" Batteries or an AC Adapter
$ 34.95


Optional Accessories:

Student Guidebook SC-100/SC-300 - $9.95

Snap Circuits Storage/ Carrying Case - $39.95


Upgrade from SC-300 to SC-500 - $39.95


SC750-BP4 Alkaline Batteries - 4 Pack
$2.99




Snap Circuits SC-750
Build over 750 Projects
$69.95





Snap Circuits 750-R
Includes Storage Case
$129.95





Snap Circuits SC-
Snap Rover
$54.95